New T-thread - T-WiZ drilling system
Views:123 Author:Site Editor Publish Time: 2020-12-11 Origin:Site Inquire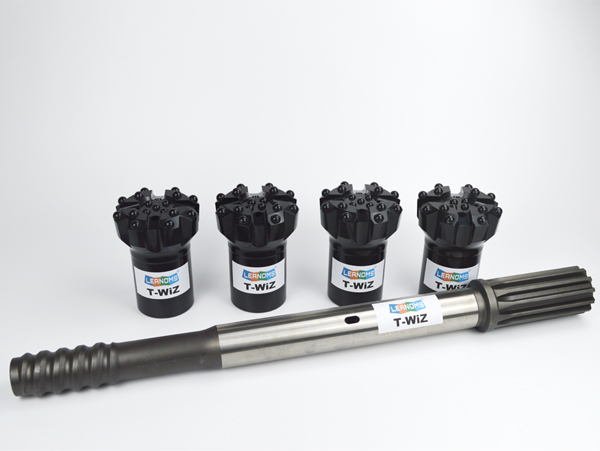 New T-thread - T-WiZ drilling system
We're not known for dabbling in make-believe. In fact, few things are more real than the benefits that come with our new T-thread. Especially when you consider that large rods require a robust thread system. With T-WiZ, we've conjured away the flaws – and patented it.
Up to 30% longer service life
T-WiZ is a new and tough thread system. this new T-WiZ drill string offers up to 30% longer service life. Which means fewer rod changes and more productivity per shift.
If you're looking at the toughest T-thread system,greater thread stability and quicker rod changes on the Chinese drilling market, The T-WiZ thread drilling system produced by LEANOMS in China is your first choice.
T-WiZ dimensions
The new drilling system comes in dimensions: T38-WiZ, T45-WiZ, T51-WiZ. T-WiZ60, T-WIZ Speed rods are ideal for bench as well as production drilling, and are available as extension or drifting drill rods.
Boost your bench and production drilling
Wherever you work – underground mines with production drilling, in surface mines or on construction sites –you'll notice the difference.
There's simply no better way to work through tough formations and fractured rock than with the T-WiZ Speed rod and T-WiZ shank adapter together.
What's more, the T-WiZ range of shank adapters will work wonders with your equipment – whether you're running an Atlas Copco drilling rig, or some other brand.
LEANOMS supply T-WiZ thread drilling system for you
Until now, We are the only one manufacturer in China that can produce T-WiZ thread drilling system.
We control the product quality strictly by using High quality steel,Advanced surface treatment and Rigorous quality control. ensure that our products belong to the world - class quality drilling tools.
As top drilling tool manufacturer in China, Xiamen Leanoms is committed to the research and development, production, manufacturing and sales of high-quality drilling tools. providing down-the-hole hammers, drill bits, drill pipes, top hammer drilling tools, we are trying to provide world-class service and rock-drilling consumables in the world.